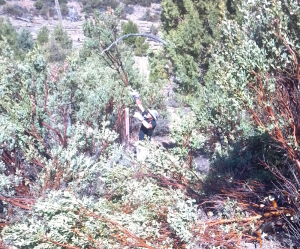 Trail work for Zane Grey 50 Endurance Run is not required but strongly encouraged. Author: John W. Vaupel
My son and I recently spent ten exhausting hours with three other volunteers performing trail maintenance on the Highline Trail #31 in the Tonto National Forest near Pine, Arizona. The Highline Trail is home to Zane Grey 50 Mile Endurance Run, regarded as the toughest, roughest and most beautiful 50 mile trail run in the country. In addition to Zane Grey 50 there are 17 miles of Highline Trail used by the brutally tough Mogollon Monster 100 as well (really its 106 miles but who's counting?). The Highline Trail is rough, rocky, steep and has some of the most beautiful scenery you'll ever have the pleasure of viewing (but don't look up or you risk face planting when you trip on a rock). It also has ponderosa pine trees lying across the trail and is overgrown in some areas with plants that more resemble barbed wire than anything you'd find in a copy of Peter Raven's Biology of Plants.
I grew up in the forest cutting firewood, hunting mushrooms, picking wild berries and building trails for my dirt bike. Living in the Sonoran Desert in Arizona I miss that time in the trees but that's not what motivated me to volunteer, I volunteered because it was mandatory for my next race, the Tahoe Rim Trail 100-Mile Endurance Run. Did I enjoy performing trail maintenance? Absolutely. Would I have done it if I wasn't running a race soon that required it? Umm, probably not. Like most people I'm busy with family, work and life in general so it's hard to find time for things like this unless I'm forced to make it a priority. So it got me thinking and has been nagging at me since I came home from volunteering. Why are a handful of people out doing all the work so 150 people can just show up and run the race? At some races there are double or triple that number of runners.
Year After Year After Year
Every year a wilderness trail requires maintenance, its not just once and it's good to go for another ten years. Trees fall in the forest, brambles grow thick, weeds and grasses choke out the trail and heavy rains wash out loose areas. Trails don't just magically fix themselves, it takes work. Local, state and national park services are cash strapped so maintaining trails is typically a very low priority or not even possible. Their attitude is "if you want to use it, you can take care of it". I don't think that's wrong either, why shouldn't we help take care of these trails we enjoy so much? But last year all the maintenance on the Highline Trail leading up to the Zane Grey 50 Mile Endurance Run was performed by just a handful of people. One volunteer spent 14 days working on the trail over a four week span, most days working sun up to sundown then camping on the trail and doing it again the next day. I've heard stories about other races where some volunteers showed up in the morning to help only to leave shortly after lunch saying they had other things to do or it was more work than they expected and walked back to their cars leaving only a few remaining volunteers to do all the work.
If 75 out of 150 runners signed up for a race lived within a few hours of the trail and all did volunteer trail work on the race route a 50 mile trail could be cleared in less than a day. Schedule two or three different weekend dates to help accommodate busy schedules and surely runners could make themselves available for at least one of the dates. If you can't do work on the actual trail of the race (like me, I'm more than 13 hours by car from Lake Tahoe) there are plenty of other opportunities to volunteer locally no matter where you live. Cities, county parks, state parks and other national parks all have trails that could use some maintenance even if they don't run ultras on them. At Mogollon Monster 100 they've even taken it a step further to help accommodate volunteers by stating if you don't have trail maintenance opportunities in your area then "also generally accepted is work with youth running programs or adaptive sports programs". Western States 100-Mile Endurance Run allows volunteering in the form of trail maintenance or volunteer services at any official running event.
The Elephant in the Room, or in this Case on the Trail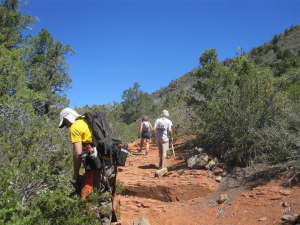 What no one wants to talk about is why aren't you volunteering? I know some of you are but a huge majority of trail runners who'll read this don't. Do we have to get to the point where trail maintenance work is required for all runners, at all wilderness ultra runs, in order to get the majority of trail runners involved more than simply filling out an entry form and showing up on the morning of the race to run? There are several ultra runs that require trail maintenance hours but it's a long way from the majority of them. Are race directors that don't require volunteer service (trail maintenance, youth running programs, etc.) afraid their race won't sell out? Tahoe Rim Trail Endurance Runs (50k, 50M and 100M) sold out 618 entrants across the three distances, in less than 8 hours this year and as of today there are still 234 runners on the wait list. Of those 618 entrants 238 are registered for the 100 mile event and are the only one's required to perform eight hours of volunteer work. It doesn't appear to have affected the Tahoe Rim Trail Endurance Runs signup. It certainly hasn't affected Western States 100 either, I'm sure I could easily find several other races it doesn't seem to affect too.
Why is this a Problem?
There was never a problem with trail work "back in the day" when ultra trail running was small and participants did it because they loved the trails, loved the wilderness, loved the culture and enjoyed drinking a beer with their fellow competitors after the race. But recently ultra trail events have been inundated with a road marathon and Ironman mentality, a sense of entitlement that says if they can fill out a signup form online and use their credit card to pay the fee that's enough. They never had to sweep the street a month before they ran in the local "music concert on every block" marathon so why should they have to clear brush to run on the trail. It's this mentality that has old school trail runners shaking their heads and retreating deeper into the forest to run fat ass races with their friends and drink micro brews around the campfire while telling stories about the old days.
What's the Answer?
As more and more ultra runs are added every year the strain to find well maintained and interesting trails to hold ultra runs will become greater and greater. I for one think every ultra run of 50 miles and above should require a minimum of eight hours of volunteer service. Eight hours, that's 8 out of 8,760 hours in a year or 0.000913242% of your time in one year. Is that really too much to ask? If you run in several different ultra runs you could use the same eight hours for multiple races, that's only fair. As a group if we don't start volunteering more it's going to come down to mandatory requirements, if not we're going to be running on overgrown trails that are not only no fun to run on but potentially more dangerous than they should be. Not to mention we won't be any better than the local corporate driven marathon most of us started at and now despise.
Conclusion
It's as simple as this…either start volunteering (you'll be amazed at how much personal satisfaction and enjoyment you'll get out of it) or prepare to be forced to do it if you want to race. Our sport of ultra trail running isn't a "one and done", "I'm entitled" activity. It's a lifestyle meant to be enjoyed within ourselves and with friends, we don't need to tell each other how far or how fast we run. We only need to know that we're doing something we love for us and our fellow trail runners and volunteering to maintain our favorite trails is simply part of that passion.
Start looking for volunteer opportunities, if you can't find them be proactive and organize a trail day yourself and invite local trail runners. If you truly have a passion "for the sport of trail running" and it's not just a passion "for telling people you trail run" then you'll be proactive and this won't be an issue in the future.
If you're interested in receiving updates on future Zane Grey 100K, i.e. Highline Trail #31 maintenance dates please add your name and email to our maintenance email list here.
Photos courtesy of Chainsaw Chris Thornley, Agassiz Cutting, LLC and Justin Lutick.